Dental Implants in Edinburgh, Scotland
If you're looking for a trusted and highly experienced dentist providing the best natural looking and affordable 'dental implants near me' in Edinburgh, our modern clinic can help.
All our dentists and nurses are registered with the General Dental Council (GDC) so you can rest assured your in safe hands here at our modern Edinburgh dental clinic.
Our dental implant team
You will benefit from the knowledge of our highly skilled implant dentist Dr Vipul Pawar (GDC - 116995), who has over 16 years of dentistry experience in the UK.
Dr Pawar is passionate about maintaining standards and quality in dentistry. He is highly respected within the industry and has successfully placed multiple implants for patients from all parts of Scotland including Edinburgh and Glasgow.
Are you looking for 'dental implants near me' from a trusted dentist? You've come to the right place. All our dentists are registered with the General Dental Council (GDC) so you can rest assured you're in safe hands here at Marchmont.
Dental implants cost in Edinburgh and Scotland
The cost of dental implants in Scotland and Edinburgh varies between £2,000 to £3,500 for top quality dental implants. To help keep this treatment as affordable as possible we ensure our dental implant prices are extremely competitive when compared to other dentists in Edinburgh.
Our implant supported crowns start from £2,550. To help spread the cost of the treatment, remember to talk to us about our 0% interest-free finance and low-cost finance options. You will need to be booked in for an assessment.
0% Interest Free Credit = Pay monthly at no extra cost
With our 0% facility, you pay the costs of your treatment - no more and no less. Interest free means just that! In terms of the low cost facilities, we provide you with a quotation that shows the monthly payment and the total interest payable over the term of the loan. There are no hidden costs and no deposit required!
Marchmont Dental Care Limited trading as Marchmont Dental Care is an Appointed Representative of Chrysalis Finance Limited, which is authorised and regulated by the Financial Conduct Authority to carry out the regulated activity of credit broking www.chrysalisfinance.com
Real life dental implants case study
The images below are taken from one of our Edinburgh implant patients after and before their treatment.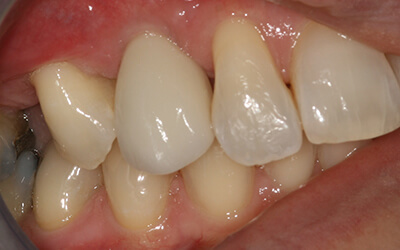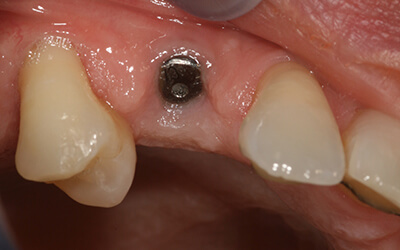 Dental implant FAQs
Dental implants are one of the most important developments in modern dentistry giving people the ability to replace missing teeth using titanium implants placed directly into the jaw bone.
Below you will find answers to some of our patients most popular implant questions:
What is a dental implant?
A dental implant is a fixed structure that is placed into the jawbone and is used to replace a missing tooth. Implants are the closest thing to natural looking teeth and make an excellent alternative to removable dentures. An implant usually consists of three components:
- Implant post or screw
- Abutment that attaches the post to the prosthesis
- The prosthesis / tooth restoration, which can be a denture, bridge or crown.
What tooth replacement options do you offer?
Dental implants are used to support false teeth. If you have lost a tooth and you are concerned about how your teeth look and feel then a dental implant is one of the best cosmetic treatments available to restore your smile.
When the root of your tooth fails your tooth can fall out. When this happens, we can use a dental implant as it is a titanium screw, which fixes into your jawbone alongside the roots of your natural teeth.
From one tooth up to a whole arch, or simply to stabilise a moving denture, implant dentistry can offer a successful alternative to many restorative problems. The security and comfort of a fixed restoration that looks and functions like the real thing and does not have to be taken out cannot be overemphasised.
We use only the very best in dental implants systems - either Southern or Biomet 3i.
How long does a dental implant procedure take?
During your consultation, we will be able to give you a timetable specifically tailored to your treatment. Usually, we will be able to fit your false teeth around 3-4 months after your implants procedure.
If the process takes longer for you than expected, we will tell you but this is usually a safe and realistic timeframe for dental implants. The implant procedure takes time because the bone in your jaw needs time to grow and fuse to the implant.
We can talk about pairing up your treatment with temporary dentures if you are concerned about having a gap in your teeth whilst you wait for the implant to fix permanently into place.
What is bone graft for dental implants?
Dental implants are artificial replacements for your tooth roots that are placed within the bone of your jaw. In some patients there is not enough bone in their jaw to allow dental implants to be inserted.
In cases where a lot of bone is needed, it may be possible to rebuild the jaw using bone taken from another part of your body, usually your hip.
This is called a major bone graft.
How long will dental implants last?
This depends on how well you look after your teeth once the procedure is complete. You may have a gap in your teeth for a number of reasons, but if it is due to poor oral hygiene, we would recommend regular visits with a hygienist.
Dental Implants are a well-established treatment. If you look after your dental implant you can expect it to last as long as your natural teeth. We would recommend that you attend regular routine visits to Marchmont Dental Care after your treatment.
Will the dental implant always fuse to the bone?
It is rare for an implant to not fuse to the bone. If the implant is loose during the healing phase, we can easily remove the implant and replace it with another.
We could also look at an alternative treatment, such as a dental bridge. In the vast majority of cases, we won't need to look at a different option.