Invisalign Invisible Braces in Edinburgh, Scotland
If you're looking for low priced Invisalign invisible braces in Scotland from a highly experienced dentist, our friendly and modern clinic in Edinburgh can help.
With the Invisalign treatment, you can have the smile you always wanted without traditional metal braces. Invisalign clear aligners can help treat a variety of orthodontic concerns and studies have shown it can be better for your dental hygiene during treatment as well.
Excellent service and advice, Marchmont Dental Care is very friendly and relaxed. Would recommend it to everyone.
~ Tom
Our friendly Invisalign team
You will benefit from the experience of our highly skilled Invisalign dentist Dr Vipul Pawar (GDC - 116995), who has over 16 years of dentistry experience in the UK.
Dr Pawar is passionate about maintaining standards and quality in dentistry. He is highly respected within the industry and has successfully helped straighten the teeth of many patients from all parts of Scotland including Edinburgh and Glasgow.
Are you looking for affordable 'Invisalign near me' from a trusted dentist? You've come to the right place. All our dentists are registered with the General Dental Council (GDC) so you can rest assured you're in safe hands here at Marchmont.
Our aim is to become well known for offering the best Invisalign in Edinburgh. Please check these Invisalign reviews and testimonials left by our patients for further evidence of Marchmont's excellent reputation.
Show off your smile, not your braces. Our Invisalign clear brace treatments are affordable and amazingly effective.
Your Invisalign treatment is nearly invisible. Almost no one will be able to tell you are wearing a brace. You can smile more during as well as after your treatment, and because you can remove Invisalign braces, you can eat and drink what you like.
So far, over five million patients worldwide have more reason to smile - thanks to Invisalign invisible braces.
Invisalign cost in Edinburgh
Most dentists in Edinburgh, Scotland, charge at least £4,000 for full Invisalign treatment. To keep this treatment as cheap as possible, we ensure our prices are extremely competitive compared to other local expert dentists.
Our Invisalign prices range between £2950 to £4500. We also offer a 0% interest free finance option to help you spread out the treatment costs.
To see our latest prices and Invisalign special offers near you please visit our fees page.
Spread the cost with 0% Finance
With our 0% facility, you pay the costs of your treatment - no more and no less. Interest free means just that! In terms of the low cost facilities, we provide you with a quotation that shows the monthly payment and the total interest payable over the term of the loan.
There are no hidden costs and no deposit required!
Marchmont Dental Care Limited, trading as Marchmont Dental Care, is an Appointed Representative of Chrysalis Finance Limited, which is authorised and regulated by the Financial Conduct Authority to carry out the regulated activity of credit broking www.chrysalisfinance.com
Your Invisalign treatment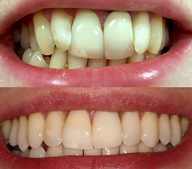 Example Invisalign before and after photos
Invisalign treatment starts with a visit to our Invisalign expert, Dr Davidson, who will carefully examine your teeth and develop a computer model of your treatment.
Together we will review and agree on your Invisalign treatment before we make a series of aligners that are custom-fitted just for you.
Each aligner is slightly different, moving your teeth gradually into the desired position.
Treatment length will vary depending on your case, but the average Invisalign treatment is twelve to eighteen months.