If you're looking for a quick, affordable and highly effective 'Botox near me' in Edinburgh, then our highly experienced wrinkle reduction injection team can help.
Botox is a popular cosmetic treatment that is used to reduce the appearance of fine lines and wrinkles on the face, but it also has other medical uses. Botox can treat medical conditions such as chronic migraines, excessive sweating (hyperhidrosis), muscle spasms, and even some bladder and bowel disorders.
Our wrinkle reduction team
You will benefit from the skills of our highly experienced principal dentist Dr Shivani Pawar (GDC No. 245945), who is passionate about helping patients restore their skin's youthful vitality.
Are you looking for 'Botox near me' from a trusted dentist? You've come to the right place. All our dentists are registered with the General Dental Council (GDC) so you can rest assured you're in safe hands here at Marchmont.
How much does Botox treatment cost in Edinburgh?
Due to its increasing popularity, Botox treatment is no longer solely for the rich and famous. To help keep this wrinkle reduction treatment as affordable as possible, we have ensured our prices are extremely competitive compared to other dentists and botox clinics near you in Edinburgh.
Our Botox prices include a free consultation:
One treatment area - £180
Discount on two treatment areas - £225
Discount on three treatment areas - £260
Check out the price list and special offers.
Reduce your wrinkles and look younger with natural-looking results
Botox is a simple and quick (approx 15 minute) procedure that will reduce the appearance of moderate to severe frown lines between the brows, crow's feet and smile (marionette) lines within a few days.
Wrinkle reduction treatment areas
See the most common facial areas that can be treated with Botox: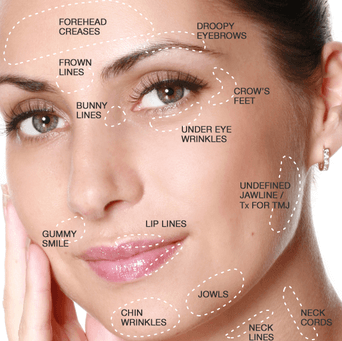 Key facts about Botox treatment:
A typical treatment takes around 15 minutes but depends on the number of treatment areas.
Botox is given by a fine needle injection and is usually painless with no anaesthetic required ( but we have anaesthetic cream at hand ).
There may be some temporary eyelid drop, swelling or bruising, but this should only last a few hours.
Botox can take up to 72 hours to reach maximum effect in most patients - but some can take as long as 7 days.
After your treatment, try and squint and use the muscles treated but don't massage the treated areas.
Don't lie down, bend over and if possible, avoid exercise for 4 hours after the treatment.
For most women, Botox lasts about 3-4 months but can be up to 6 months.
Please remember that cosmetic improvements like Botox can't reverse ageing - only some of the outward ageing appearances.
Before and after Botox treatment example