If you need natural looking, affordable and long lasting porcelain dental veneers near you in Edinburgh, our highly experienced dentists can help.
Our principal dentist and cosmetic dentistry expert John Davidson (GDC No: 57805) has over 36 years dentistry experience.
He is highly respected within the industry, has treated patients from all parts of Scotland and has had many senior roles including part-time Dental Practice Inspector for Lothian NHS trust and sitting on the Scottish Dental Practice Committee.
All our dentists are registered with the General Dental Council (GDC) so you can rest assured your in safe hands here at Marchmont.
We can immediately improve the cosmetic appearance of your teeth by using natural looking porcelain veneers.
Cosmetic porcelain veneers are wafer-thin laminates or shells of tooth coloured ceramic or composite, which are bonded to the front surface of the tooth to improve its cosmetic appearance.
Porcelain veneers cost in Edinburgh and Scotland
The price of veneers in Scotland varies considerably, mainly depending on the materials used and complexity required.
However, to help keep this treatment as affordable as possible, we ensure our prices are extremely competitive compared to other dentists around Edinburgh.
Our top quality and long lasting cosmetic porcelain veneers therefore start from £505 per tooth. We also offer 0% interest-free finance and low-cost finance options to help spread the treatment costs.
With our 0% interest free facility, you pay the costs of your treatment - no more and no less. Interest free means just that! In terms of the low cost facilities, we provide you with a quotation that shows the monthly payment and the total interest payable over the term of the loan.
There are no hidden costs and no deposit required!
Marchmont Dental Care Limited trading as Marchmont Dental Care is an Appointed Representative of Chrysalis Finance Limited, which is authorised and regulated by the Financial Conduct Authority to carry out the regulated activity of credit broking www.Chrysalisfinance.com
Click the image below for the Chrysalis Finance Calculator and see how much your treatment will cost.
What makes porcelain veneers so popular?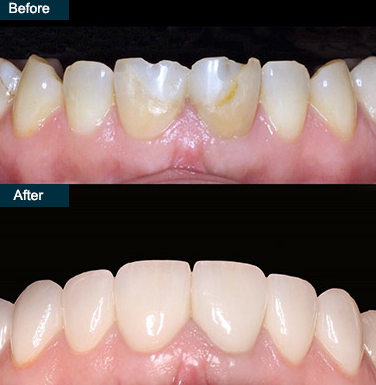 Example Veneers Before & After
Teeth that are either crooked or chipped can look unsightly, as well as affecting your bite and ability to brush and floss effectively.
Veneers will almost instantly transform the look and feel of your teeth by sitting over the prepared tooth.
Results are immediate with straighter, healthier-looking teeth.
Other key benefits of porcelain veneers include:
Can address multiple issues at once
Look and feel like natural teeth
Can be combined with other dentistry options
Require no special care except brushing / flossing
Stain resistant
Which types of patient are best suited for veneers?
An initial assessment will determine if veneers are the right choice of treatment for you, but patients with chipped or damaged teeth would benefit from the process.
Gaps between teeth can also be cosmetically improved without the need for a dental implant.
If you're worried about the natural colour of your teeth, veneers can brighten your smile whilst also helping to give the appearance of perfectly aligned teeth.
How long does treatment take?
The process of fitting veneers is straightforward compared to other cosmetic treatments and should not take longer than two visits.
During the first visit, we prepare the tooth and also make a note of the natural shade of your teeth.
The second visit is for bonding the wafer-thin veneer to the prepared tooth using a special adhesive.
What should I do next?
If you require further help or wish to book a dental veneers consultation - contact the practice on 0131 229 5542 or fill in our enquiry form here.