Fillings are required when the tooth structure becomes decayed creating a cavity (or hole) in the tooth.
A filling may be white (composite) or grey (amalgam) depending on the position in the mouth. It is used to replace a damaged part of the tooth. We commonly replace grey fillings safely with tooth or white coloured composite material. For larger fillings we may have to use porcelain inlays.
What is a white filling?
Most people will need to have at least one filling in their lifetime. Silver fillings are available, but is noticeable when your mouth is open. White fillings are tooth-coloured and look natural, which is the main advantage over the more traditional silver option.
How long will my white fillings last?
New materials are used to make white fillings as durable and long-lasting as the amalgam version. The length of time white fillings last depends on where they're placed in your mouth and how your teeth come together when you bite.
Can I replace my silver amalgam fillings with white fillings?
This wouldn't be a problem but the best time to get white fillings is when the old ones need replacing. We may decide that fillings are not the best course of treatment for you because your problem teeth are towards the back of your mouth. In this case, we may decide that crowns or inlays are best for you.
Case Study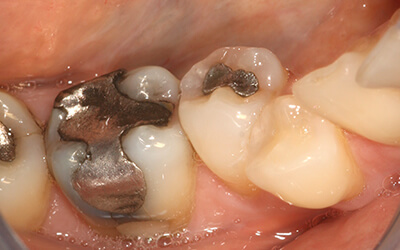 What should I do next?
For further information on white fillings, please contact a member of the Marchmont Dental Care team on 0131 229 5542 or fill in our enquiry form here.