If you're looking for affordable 'dental crowns near me' or bridges from an expert Edinburgh dentist, then our modern clinic can help restore your teeth.
You will benefit from the knowledge of our highly skilled dentist Dr Vipul Pawar (GDC - 116995), who has over 16 years of dentistry experience in the UK.
Dr Pawar is passionate about maintaining standards and quality in dentistry. He is highly respected within the industry and has successfully placed multiple implants for patients from all parts of Scotland including Edinburgh and Glasgow.
Are you looking for crowns or bridges from a trusted Edinburgh dentist? You've come to the right place. Our dentists are all registered with the General Dental Council (GDC), so you can rest assured you're in safe hands here at Marchmont.
What are dental crowns and bridges?
A dental crown sits over a tooth that may have been broken or weakened and helps return the tooth to its former strength and shape.
If you are missing one or more teeth a dental bridge can be fitted. A bridge is similar to a crown but is used to replace a missing tooth or teeth. Conventional bridges are made by crowning the teeth on either side of the gap and attaching a false tooth in the middle to restore function and look natural.
The bridge also stops the surrounding teeth from moving out of place over time and maintains the shape of the face.
Dental crowns are an ideal way of repairing teeth that have been broken, weakened or showing signs of decay. They can also be used to protect a tooth after root canal treatment.
A dental bridge is used to replace missing teeth and helps to 'bridge the gap' between teeth. This not only improves the appearance of your teeth but also improves the functionality as the teeth on either side of the gap feel less strain.
Contact our tooth repair team
For further information on Crowns or Bridges please contact a member of the Marchmont Dental Care team on 0131 229 5542 or fill in our enquiry form.
Dental Crowns Before and After - Case Study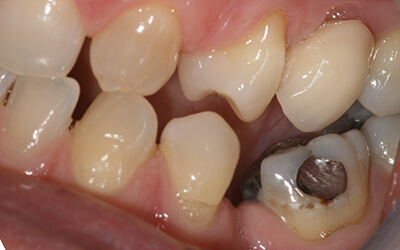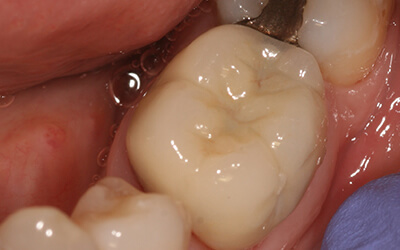 What are the advantages of a dental crown?
The main benefits of dental crowns include:
Crowns cover stained teeth so they look natural
Cosmetic improvements: restoring teeth to their natural shape and size
Crowns hold a tooth filling
Protecting a dental implant
Protecting weak teeth from breaking
Attached to dental bridges
How long does it take to fit a dental crown?
Generally, it will take at least two visits. We will need to prepare your tooth during the first visit, as well as taking impressions and making a note of the shade your crown should be. We will then fit a temporary crown.
Your permanent dental crown will be fitted during your second visit. There is usually a 1-2 week wait between appointments.
How long can I expect my dental crown or bridge last?
The answer depends on how well you look after your teeth once the procedure is complete. You may have a gap in your teeth for a number of reasons, but if it were due to poor oral hygiene, we would recommend regular visits to the hygienist. Well look after crowns and bridges can last for a number of years.
How much do dental crowns cost?
To make this treatment as affordable as possible, we have ensured our prices are extremely competitive compared to other expert dental crown treatments in Edinburgh.
Our dental crowns prices start from £500. You will need to book an appointment.
To help make the procedure more affordable, we also provide 0% interest-free finance and low-cost finance options which you can receive with a minimum spend of £1,000.
0% Interest Free credit
With our 0% Finance, you pay the costs of your treatment - no more and no less. Interest free means just that! In terms of the low cost facilities, we provide you with a quotation that shows the monthly payment and the total interest payable over the term of the loan. There are no hidden costs and no deposit required!
Marchmont Dental Care Limited trading as Marchmont Dental Care is an Appointed Representative of Chrysalis Finance Limited, which is authorised and regulated by the Financial Conduct Authority to carry out the regulated activity of credit broking www.Chrysalisfinance.com