At Marchmont Dental, our experienced team of experts provides effective and affordable Six Month Smile in Edinburgh - a world-renowned fast teeth straightening solution.
Are you unhappy with the appearance of your smile and would you like to have perfectly straight teeth in the shortest time possible?
If wearing metal braces for two years concerns you, then discreet clear braces by Six Month Smiles may be the perfect treatment for you.
Our teeth straightening team
You will benefit from the knowledge of our highly skilled cosmetic dentist Dr Vipul Pawar (GDC - 116995), who has over 16 years of dentistry experience in the UK.
Dr Pawar is passionate about maintaining standards and quality in dentistry. He is highly respected within the industry and has successfully treated many patients from all parts of Scotland including Edinburgh and Glasgow.
Are you looking for 'six month smiles near me' from a trusted dentist? You've come to the right place. All our dentists are registered with the General Dental Council (GDC) so you can rest assured you're in safe hands here at Marchmont.

What is Six Month Smiles?
Six Month Smiles is a unique American clear brace system that aims to straighten crowded, misaligned or crooked teeth quickly. Teenagers and adults alike can now enjoy the benefits of beautifully straight teeth in as little as six months.
By gently aligning the teeth that are seen when you smile, the clear brace system allows you to smile with confidence.
How much does a Six Month Smiles treatment cost in Edinburgh?
At Marchmont Dental Care, our treatment comes with added value because all procedures include removable and bonded retainers, as well as free teeth whitening, which usually costs £350.
The cost of Six Month Smiles starts from £3,075 and the treatment is even more affordable with our 0% interest-free and low-cost finance options.
Why choose Six Month Smiles?
Clear brackets and tooth-coloured wires
Average treatment time is 6 months
Discomfort is kept to a minimum as only gentle forces are used to straighten the teeth
Straightens teeth so quickly as it focuses on the teeth you see in your smile and does not make significant bite changes.
Contact Marchmont Dental Care
For further information about Six Month Smiles in Edinburgh, please contact a member of the Marchmont Dental Care team on 0131 229 5542 or fill in our enquiry form.
Six Month Smile FAQs
Read some of most frequently asked questions about this fast teeth straightening system.
How can Six Month Smiles be more comfortable to wear than fixed braces?
Low force is used to gently move your teeth into position. Regular orthodontic mechanics is used with Six Month Smiles but there is more emphasis on the cosmetic appearance of your teeth rather than your bite. This means only the teeth that are seen when you smile are moved, which makes the entire process more comfortable.
Will it really take just six months?
Most patients get their perfect smile in only six months. Each case is unique and some patients can expect the treatment to take longer but on average, the treatment really does take just six months. The time it takes to correct teeth is one of the main advantages over fixed braces.
How much do Six Month Smile treatments cost?
Our Six Month Smile treatment starts from £3,075. Both single and dual arch treatments include removable AND bonded retainers to keep your teeth in their new desirable position and FREE TEETH WHITENING (usually £350).
Please call us on 0131 229 5542 or enquire online as you will need to book an assessment. Remember to talk to us about our 0% interest-free finance and low-cost finance options.
With our 0% facility, you pay the costs of your treatment - no more and no less. Interest free means just that! In terms of the low cost facilities, we provide you with a quotation that shows the monthly payment and the total interest payable over the term of the loan. There are no hidden costs and no deposit required!
Marchmont Dental Care Limited trading as Marchmont Dental Care is an Appointed Representative of Chrysalis Finance Limited, which is authorised and regulated by the Financial Conduct Authority to carry out the regulated activity of credit broking www.Chrysalisfinance.com
Case Study- 6 Month Smile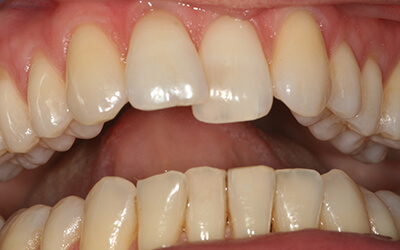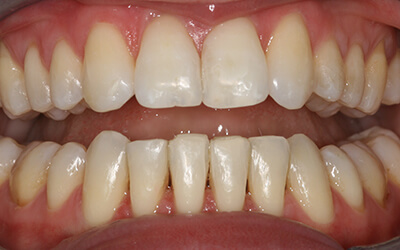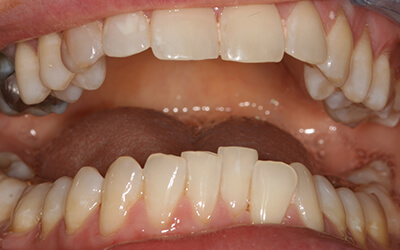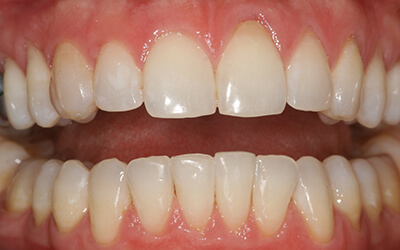 What should I do next?
Book a Six Month Smiles Consultation - contact the practice on 0131 229 5542 or fill in our enquiry form.